US STOCK: 3-5 Business Days For US Address & 5-7 Business Days For Canada Address. We Do Not Delivery To POBOX Addresses.
🎁Pop-Up, Spin to Win: Get 50% Off This Black Friday!
Accessories For NT-04
✅Extra 
Charger
✅Extra 
F

ilters

 (10 pcs/Pack)
✅Extra
Nasal Cannula
✅

Extra

 
Car Power Inverter
✅Extra Remote Control
Two Different Charging Options
✅AC Power Supply- Home/Hotel/ Office/ Indoor Use
✅DC Power Supply-Use in the Car
Features:
1. Suitable For Adults And Children
Two nebulizer masks&nbsp are included. One for adults, and the other for kids.
2. 
Smarter & Lighter
NT-04 is one of the lightest oxygen machines in our VARON, which only weighs
10.58lb. Moreover, the NT-04 has smooth lines, a compact appearance, a simple design, and a built-in display screen, a sense of sci-tech that lets you know the working status at a glance.
3. Oxygen Generation & Nebulizer
The home machine NT-04 provides adjustable continuous oxygen, up to 7L/min.  In
addition, NT-04 has an nebulizer treatment and comes with an nebulizer kit.  Both oxygen supply and atomization functions can help you improve your breathing quality.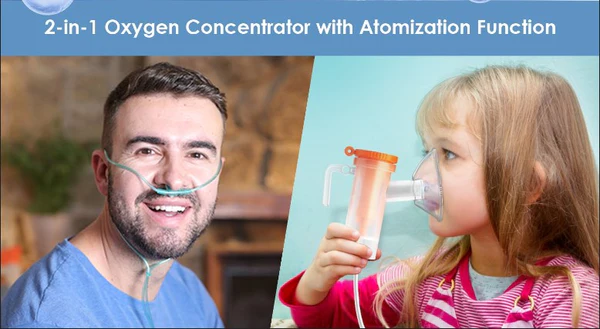 4. Pure & Clean Oxygen Supplement
Compared with other traditional household machines, NT-04 has a built-in automatic
humidification system, which can automatically provide moist oxygen to make breathing more natural and smooth. Meanwhile, oxygen is purified and humidified through high-quality strong adsorption molecular sieves and 10-stage filtration and finally provided to users to ensure that every breath they breathe is clean.
5. Quieter, Noise below 42 dba 
The low noise of NT-04 
is suitable for indoor use
, makes you concentrate more on work 
and study during the day, and enjoy a deep sleep without interruption at night. 
6. Power Saving Mode
In the working state, the display, in the absence of operation for a minute, will enter the power-saving mode making your life more eco-friendly.

7. Easy To Operation
NT-04 has timing, SOS, remote control, and sleep mode. These functions can help you have a comfortable experience in your daily life.
Specifications:
Product

Name

VARON Oxygen Concentrator NT-4



Size

 8.03*8.43*11.02 inches

Weight
10.58 Lb
Rated Voltage
AC230V/50Hz; AC110V/60Hz
Input Power
120W
Oxygen Flow Rate
1-7L/min adjustable
Oxygen Mode

Continuous

Oxygen Concentration
30%-93%
Atomization Rate
≥0.2mL/min
Operating Mode
72 hours
Operating Noise
≤42dB
Package Includes:
Main machine *1
Oxygen inhaler kit *1
Nebulization kit (NT-04 model only) *1
Remote control (NT-04 model only) *1
Instruction manual *1
Certificate of Conformity (attached to the manual) *1
Power cord *1
About TTLife Store
How do you contact us?
Customer Service - We're here to help.
You can contact us via Email, Phone, or Chat. We will try to respond as soon as possible. Feel free to ask for advice or give us feedback on our products or services. We're here to provide you with the best service we can.
E-mail Us:  customerservice@oxygeneratorsale.com
Phone:+1(626) 228 1001
How do you enter a promo code for an online purchase?
You can enter your promo code at any time during checkout. 
Where can you find coupons or promos?
Subscribe to our store to gain access to exclusive coupons and promotions from TTLife. Or you can ask our customer service, we will assist you with your promo code.

When do you receive your package?
US In Stock & Free Shipping for US orders.
3-5 business days to deliver.
Accessories: 10-15 days to deliver.
The oxygen concentrators and the accessories will be shipped separately.
Customer Support
Where can you find return and exchange policies?
Return and exchange policies can be found here: Return and Exchange Policies.
How do you cancel your order?
If you placed an order and would like to cancel, please contact us to begin the cancellation process. Email address: customerservice@oxygeneratorsale.com We will get back to you within 12 hours.
How do you return your order?
First, please review our return and refund
policies. found here:  Return and Exchange Policies. Then please get in touch with us to begin the return process. 
Email address: customerservice@oxygeneratorsale.com
Who do I contact about my refund?
Please email
customerservice@oxygeneratorsale.com
.questions about your refund. We will get back to you within 12 hours.
Does an oxygen concentrator need to be cleaned?
Yes, cleaning is important for any piece of equipment. You should refer to your owner's manual to find out how to properly clean and maintain your device. If you do not have your user's manual you may find a copy of it here:
OXYGEN CONCENTRATOR  MANUALS
General Product Questions
Do I need a prescription to buy a portable oxygen concentrator?
No, we don't need a prescription.

Can you fly with a portable concentrator?
Our Products are not FAA-approved, we suggest you use them during the excursion.

How does an oxygen concentrator work?
A portable oxygen concentrator is a device that separates oxygen from the air and allows you to breathe in the oxygen on an as-needed basis. Portable oxygen concentrators can run on both AC and DC power, and they can be charged by both. This battery charge allows it to bring in air, separate the oxygen from the rest of the air, and deliver it back into your lungs at whatever rate is appropriate for you. Some portable oxygen concentrators offer both continuous flows and pulse dose settings.
The home oxygen concentrator is a device that converts air into oxygen, allowing you to breathe easier. It runs on AC power and is only compatible with home or stationary models. The concentrator brings air through the inlet vent into the machine, where it passes through a filter that catches dust and other small foreign particles before going through an oxygen separation system. The oxygen is then released through the tube and cannula in the proper dosage.
Are batteries for the portable concentrator rechargeable?
The batteries for your portable oxygen concentrator can be recharged either with the AC power cord or in the car with the DC power cord. They can be recharged inside the concentrator, or if they are external batteries, they can be charged using their cord, or in an external battery charger depending on the model and type of batteries it takes. Battery recharging time varies from concentrator unit to unit, as well as depending on how old your battery is and how much remaining battery life it has left. The average recharge time is 4 to 5 hours.
Are there any portable oxygen concentrators that are continuous flow?
Although many portable oxygen concentrators (POCs) provide only pulse dose oxygen delivery, some units also deliver continuous flow.
NT-05 is an oxygen concentrator that provides 3L continuous flow. And the battery can last up to 2 hours.
NT-02 has 2 oxygen delivery modes: Pulse Mode delivers oxygen by sensing the user's breathing rhythm, while Continuous Flow supplies oxygen at a fixed frequency. The 2 modes switch automatically according to users' breathing patterns, suitable for a broad range of people.

Can an oxygen concentrator be stored in a cold/hot room?
The standard ambient temperature range of our oxygen concentrator is -20℃~60℃. Cold conditions can affect the operating time of portable oxygen concentrator batteries.
Continuous or pulse flow?
A continuous flow oxygen concentrator means the oxygen generator can continuously supply oxygen. But pulse oxygen concentrators usually supply oxygen based on your breathing, because pulse oxygen concentrators usually have breathing sensors.
Products of continuous flow or pulse flow?
Our NT-02 portable oxygen concentrator can supply 1-5 L/min dual mode oxygen flow, adjustable. 
Our NT-01 portable oxygen concentrator can supply 1-5 L/min pulse flow, adjustable. 
Our NT-05 portable oxygen concentrator can supply 3 L/min continuous flow, stable.
Replace filters? how often?
Separately sold, it can be cleaned or replaced every 3-6 months, this is the link
https://oxygensolve.com/collections/accessories

Can I use the machine for 24 hours?
Yes, all of our home oxygen machines are suitable for you, they can work for 24h/7d, even when you sleeping.
How long is the warranty?
All of our brand-new home and portable oxygen concentrators have a one-year warranty, except our used oxygen concentrator and accessories.
Oxygen Concentrator Product Questions
How do you check/read the hours on the portable oxygen concentrator NT-02?
Battery indicators: This shows the current battery capacity, which is calculated
based on the real-time voltage value and may deviate from the actual situation.
For reference only.
There are 4 battery indicators on the operation panel:
4 lights on -------- battery capacity≧90%
3 lights on -------- 90%>battery capacity≧75%
2 lights on -------- 75%>battery capacity≧50%
1 light on -------- 50%>battery capacity≧25%
1 light flashing -------- battery capacity<25%

Can you use oxygen concentrators when sleeping?
Yes, home oxygen concentrators are suitable for you, they can work for 24h/7d, even when you sleeping.
How long can the NT-02 battery work?
Battery Duration:
| | | |
| --- | --- | --- |
|             | 8 Cell Battery | 16 Cell Battery |
| 1 Liter | 3 hours 20 minutes, average | 6 hours 40 minutes, average |
| 2 Liter | 3 hours, average | 6 hours, average |
| 3 Liter | 2 hours 15 minutes, average | 4 hours 30 minutes, average |
| 4 Liter | 2 hours, average | 4 hours, average |
| 5 Liter | 1 hour 45 minutes, average | 3 hours 30 minutes, average |

What is the negative ion?
negative ion: Negative oxygen ions can effectively strengthen the ciliary movement of the tracheal mucosal epithelium, affect the activity of respiratory enzymes in the epithelial villi, improve the secretory function of alveoli and the ventilation and ventilation functions of the lung, relieve bronchospasm, increase lung capacity, adjust the respiratory rate, and relieve cough, etc.

What is the Atomization function?
Atomization: The atomization function of the oxygen concentrator uses expertise to help the respiratory system target this one place, so it has few side effects. At the same time, because the atomized very small particles are better absorbed, the damage to the respiratory system is also very small.

Which one is the lightest portable oxygen concentrator?
NT-03 is the lightest portable oxygen concentrator, which is only 3.1 lbs.
The battery for NT-03 is 0.66 lbs.
What are the 5L portable oxygen concentrators?
NT-01 and NT-02 provide 1-5L oxygen flow and 93% ± 3% oxygen concentration. The biggest difference is NT-01 has an internal battery that can't be replaced. NT-01 has a replaceable battery that can last up to 4 hours.

What's the difference between the 3 model home oxygen concentrators?
What are the different types of Oxygen Concentrators?
Two types of oxygen concentrators
Two types of oxygen concentrators
Payment Methods
Payment through PayPal. you will be redirected to their website where you can log in and finalize the payment. You can connect your credit card, debit card, or bank account to PayPal for purchasing products.
Do your products meet European standards?
Yes, our NT-01 & NT-03 are CE-certified. You can find the CE mark on our products.
On commercial products, the letters CE (as the logo 
) mean that the manufacturer or importer affirms the good's conformity with European health, safety, and environmental protection standards. It is not a quality indicator or a certification mark. The CE marking is required for goods sold in the European Economic Area(EEA) but is also found on products sold elsewhere that have been manufactured to EEA standards.
Shipping Costs & Tax
1. Free shipping on orders over $60 to U.S. addresses; 
    The shipping fee is $15 when the order value is less than $59.
2. $29.99 Shipping Fee to Canada.
3. $150 Shipping Fee to Mexico.
4. $100 Shipping Fee to the Rest of the World.
5. No sales tax.

Shipping Locations
1. Shipping is valid for shipping addresses in the United States, Canada, Mexico, Europe, etc. Excluding Peru, Alaska, Hawaii, Puerto Rico, and Guam.
2. We do not deliver to PO Box addresses. Please leave a specific address when you place an order, to make sure the package can deliver successfully.
Shipping Methods
All orders of oxygen concentrators are shipped out via UPS or DHL or FedEx Express.
All orders of accessories are shipped out via USPS or DHL or YunExpress, etc.

Shipping and Delivery Estimates
For Oxygen Concentrators:
Shipping time: 1-2 Business Days
Delivery time: 3-5 Business Days
For Accessories:
Shipping time: 2-3business days
Delivery time: 5-7 business days
 Customer Service - We're here to help
E-mail
customerservice@oxygeneratorsale.com
(Due to the rapid growth of customers and orders, we will reply within 12 hours after receiving your email, please wait patiently)
Phone
US Phone : +1 2133706080 Monday to Friday: 10:00 am - 18:00 pm (PST)
WhatsApp: +1 2133706080